Alex's MGCS Story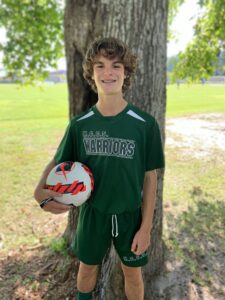 In October, we hosted our annual Grandparents' Day and Fall Festival celebrations. One of the students who volunteered to help with the event set up was 8th grader Alex Tisdale.  Here, Alex's Dad shares their MGCS story: 

"Alex entered Myrtle Grove Christian School at the start of seventh grade. He had attended the local public schools prior to attending MGCS, and had a positive experience there, but a change was needed. The online learning protocols imposed by the school system at the start of the COVID-19 pandemic during his sixth grade year did not meet Alex's needs. He also seemed lost in the large middle school student population.   
Alex attended the Summer Explorers program at MGCS during the summer after sixth grade. At the end of the first day of camp, before we even pulled out of the parking lot, he said that he wanted to transfer to MGCS. He felt so comfortable and at home during that first day of summer that he knew MGCS was where he belonged. He really liked the Summer Explorers staff, who are also on the MGCS faculty, and had already made friends with the kids in his group.  
I immediately started the application process and the rest is history.  
Alex is having a wonderful experience at MGCS and truly enjoys going to school. It's a warm, loving, Christian environment with an outstanding group of teachers and staff. He has made great friends and is thriving in the school community. Sending Alex to MGCS has been the right decision." -Ed Tisdale