Cultivating Curiosity, Building Skills, Seeing God's Love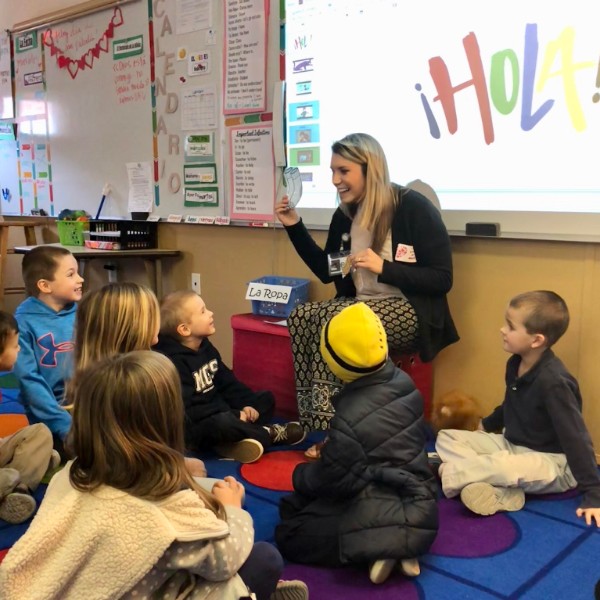 This year, we've made a number of adjustments in curriculum and scheduling.  One exciting change has been the expansion of our Spanish program into Kindergarten, 1st grade, and 2nd grade. MGCS Alumna, UNCW College of Education grad, and fluent Spanish speaker, Maddie Goslee returned to MGCS this year to lead our newly expanded program.
Now, along with 3rd through 5th grade students, our K-2nd graders receive weekly instruction in Spanish.  The intensity of instruction increases in 6th through 8th grade as Spanish is integrated into the Language Arts curriculum. In each grade, Maddie strives to help students establish a solid foundation in Spanish that will prepare them for foreign language success in high school and beyond.
Here, Maddie shares insights from her classroom…
Curiosity is one of my favorite parts of teaching Spanish. Students asking, "Mrs. Goslee, how do you say….?" is something I look forward to with each class. Watching students work diligently, listen intently, and develop Spanish language skills is deeply rewarding.  The progress so far this year has been amazing.  I can't wait to see our final results in June.
In elementary classes, we use songs, dance, hand motions, reading, listening, and conversation to develop Spanish language skills.  Watching students' eyes light up when they hear a familiar word is a highlight of my day.  Language is a powerful communication tool, and cultivating curiosity about Spanish in early elementary years provides students with a foundation to take it beyond the classroom walls and use it at home, at church, in our community, and in higher education.  It inspires me to think about what might be built on the foundation we establish here.
Throughout our Spanish classes, we explore the truth that God makes all of us different and unique.  We are all His masterpieces.  Learning a language is part of appreciating differences around the world from culture to culture. Studying Spanish speaking countries in Upper School has led to many thoughtful conversations about God's love for people from every nation and tribe.  Exploring these cultures has sparked in all students, a genuine curiosity in life beyond the borders of our country and beyond the borders of our comfort zone.