Eighth Grade Reflections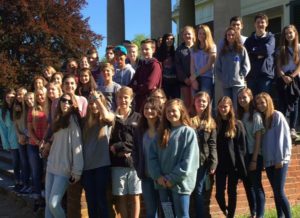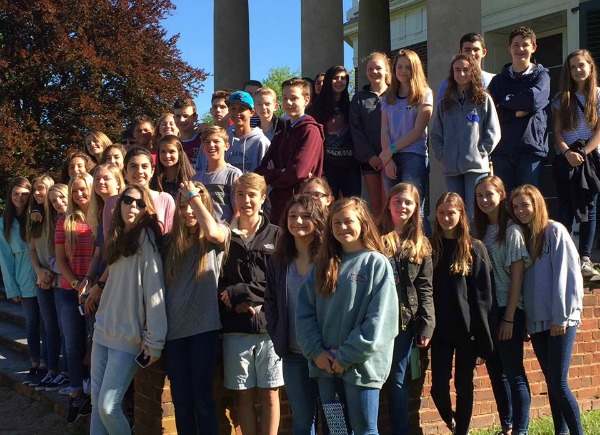 May and June are bittersweet months at MGCS.  Summertime is in sight but June ushers in too many goodbyes.  When it comes to our 8th grade students, that goodbye is a bit more significant.  Some students have been here since preschool, some came to us during elementary school and some jumped in for the middle school years.  No matter when they joined us, all of them have found a place in our hearts and in the fabric of our community.  We are proud and so happy for them to take the next step but it's also sad for us to see them go. It has been our honor to be a part of their lives and we look forward to watching them shine like stars as they leave us for bigger things.
Here some reflections from this year's 8th grade parents.
Nick Marks
We have been blessed to be a part of the MGCS family since Nick began in 5th Grade.  We have seen him grow from a young elementary age school boy into a confident young man.  We are honored that the staff has shared their love for the Lord with our family and especially with Nick.  The years at MGCS have been a huge blessing and we are sad to leave MGCS. –Michael and Michelle Marks
Alex Bunch
When Alex started in three year old preschool at MGCS, I really didn't believe the parents that told me the years would "fly by" but here we are.  In what feels like a blink of an eye it's time for Alex to say good-bye to MGCS.  The teachers and staff have truly become a major part of our family.  Over the 11 years that Alex has been at MGCS, we have seen so much growth in him (physically, mentally, and socially). Thank you to Mrs. Gaskill for your guidance on whether our late summer birthday boy was ready for Kindergarten or whether he needed one more year of preschool.  Thank you to all his elementary teachers for encouraging him and challenging him.  Thanks to all the upper school teachers for pushing him to do his best.  Finally, thank you to Mrs. Pleasant for your continued dedication to Science Olympiad and making such a wonderful opportunity available to students. – Chris and Jennifer Bunch
Kelly Mayo
Kelly was new to MGCS in seventh grade. That's a tough age to switch schools and we were most concerned with acceptance among her new peers. Her birthday was within the first couple weeks of school and I'll never forget when she came home that day with special gifts from several girls in her class. They had taken the time to learn about her and give her things that had meaning. I knew right then we had made the right choice. She has been building meaningful relationships with those same girls ever since. Thank you to the leadership team and teaching staff for instilling acceptance of others, a sense of giving, and compassion into all of the students. What a wonderful gift! – Melissa Dunn
Sadie Luscher
Sadie has been a part of MGCS for her whole life.  She was born the year her oldest sister was in kindergarten at MGCS.  Sadie was welcomed into the MGCS family from day one by my daughter's kindergarten class, teachers and administrators,  We are so blessed to have had the privilege of all three of our children complete k-8 here.  The investment is more than worth it and the Christian foundation is paramount to all of our daughters' success. – Lenny and Stephanie Luscher
Raigan Fort
Raigan came to MGCS midway in her seventh grade year. Going to a new school and developing new friendships was tough but the teachers and other students made her feel like she was already a part of the family. At MGCS she has grown in her faith as well as her academics. – John and Kelly Fort
Callie Stevens
Callie came to Myrtle Grove Christian School in seventh grade. Because of our family's travels, she has had a varied background with attendance at multiple schools here and abroad as well as home schools. As a relative newcomer, Callie was welcomed and loved from the very beginning. She made many friends and enjoyed so many opportunities for growth academically, socially, and spiritually. We feel blessed to be a part of the MGCS family. – Ross and Beth Stevens
Gage Strickland
Wow!  It is hard to believe Gage began nine years ago at MGCS.  He has been given a great foundation that will last a lifetime. – Christopher Strickland