Highlights From The 2014-15 School Year
It's been another wonderful year at MGCS.  Thank you to all who helped make it possible.  We asked the MGCS staff to share their highlights.  Here is what they said:
One of my many highlights was this comment from a family that joined MGCS this year: "Our daughter went from hating school in 3rd grade with tears every morning at a prior school to loving her teachers, classmates and learning again at MGCS.  It is such a joy to have our happy child back! " A child who loves learning…Yay! – Sandy Sciales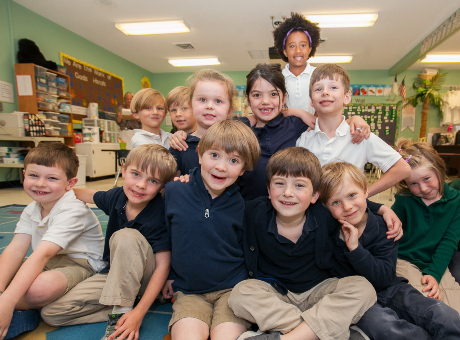 I think the highlights of this year were our field trips to Moore's Creek Battleground and our trip to Old River Farms. We all had a wonderful time and learned so much. Thanks to all the parents who graciously served as chaperones. – Barbara Nail
One of my favorite parts of the year was watching my "Manners Matter" students learn the waltz.  What a delight to see them move from discomfort to confidence as they performed a perfect waltz at the Manners Reception dressed to the nines with big smiles on their faces. It's like watching a caterpillar change into a beautiful butterfly! – Kim Furtado
During our Renaissance unit, I loved being surrounded by the students' recreations of artwork by Donatello, Michelangelo, Di Vinci, and Raphael during our Renaissance unit.  There were probably thirty Mona Lisa paintings covering my walls and fifteen statues of David adorning my bookshelves. – Amanda Doherty
I loved how the 8th graders ministered at the Fall Games for the Special Olympics and I loved watching the Upper School students rise to the occasion of being leaders all year long to each of their tribes. – Julie Thompson.
A highlight for me this year was in chapel when a variety of the students shared stories of other students showing brotherly kindness to them. – Chris Jensen
One of the accomplishments we are most proud of this year is watching the light bulb come on for so many of our little learners. In the beginning of the year we had a number of students who did not know most of their letters and numbers. When we did our end of the year assessments, the improvement from the fall was amazing.  Now they are pointing out letters around the classroom, in books, and everywhere they see them. It is so much fun to watch them learn and grow. – Mrs. Eddy and Mrs. Carmon
The highlight of the year for me has been the conversations I have had with my sixth grade students about family, friends, and life.  It is a privilege to be a part of their lives. – Tami Hebert
Every student in my class scored in the "high mastery" range for reading on the Terra Nova.  Two of my students chose to accept Jesus as their Savior. – Ginny Craft
My highlight for the year was guiding K-5 art students as they created the beautiful canvasses for the Spring Fling Art auction.  Each class produced amazing work and developed their art skills…way to go guys! – Brooks Koff
The highlight of the year for me was teaching my students songs about Jesus that use sign language.  Watching and hearing them sign and sing  blesses my heart. – Paula Starling
The highlight of this year for me was seeing our second graders lead the school in our Operation Christmas Child chapel. They worked so hard and really allowed the Lord to work through them. – Tiffany Ivey
One of my highlights was Spring Fling…the fun night we had and the money raised for the Annual Fund.  Fall Festival runs a close second.  Thanks so much to all the volunteers who helped pull off these festive events.  – Julie Ashcraft
My greatest accomplishment this year has been sharing Jesus with my students in a way that made them think about being kind, truthful, gentle, and loving. – Toni Gaskill
Going to Spring Arbor Assisted Living and watching the children minister to the residents really touched my heart.  It was awesome how they connected…giving hugs, talking, and sharing God's love.  – Sandra Godsey
This year, I have been so pleased to watch my class make significant academic strides.  I have also seen them mature and develop a love for Jesus.  They all learned to say our school Bible verse and can now say it without help from me. – Pam Noland
A highlight for me this year was 5th grade chapel. The students did an amazing job communicating the awesomeness of our Savior Jesus. Also, the courage they showed when sharing their testimonies demonstrated their faith and strength. – Glenn Pleasant
My whole year was a highlight…We have had a blast in second grade! Many students truly developed a love of reading and went above and beyond their AR goals.  They became wonderful writers, and are publishing their own book.  The class researched and wrote biographies, "Flat Stanley" letters, and investigated as caterpillars transformed into butterflies! I'm going to miss this awesome group so much, but I'm excited for another amazing year. – Cindy Murphy
It was a humbling and joyful experience to be able to bring a seeking 1st grader to Christ! – Kathy Dodge
One of my favorite parts of this year was our Civil War Field Trip to Ft. Anderson in Brunswick County.  It was very rewarding to watch history come alive for the students.  Riding the ferry back on such a beautiful spring day was the perfect ending to an exciting and educational day. – Vickie Singer
I loved sitting in the back of the bus on the 8th grade trip to Virginia.  It gave me the opportunity to spend unstructured time with students and listen to what they were thinking about.   I also really enjoyed the bowling/dance party at Thunder Alley with all of our awesome Middle School Students. – Hannah Ivey