The Library: A World Of Adventures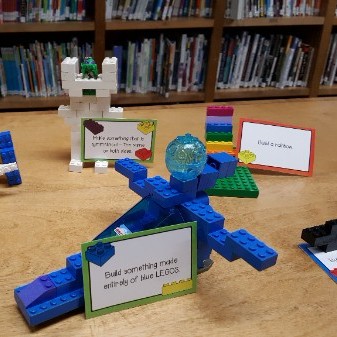 After teaching Kindergarten for 16 years, Mrs. Starling is embarking on a brand new chapter as the MGCS librarian and she has uncovered a whole world full of adventure there! Read all about it here…

One of my first tasks as librarian is to teach the students how the library runs and is organized.  How dry and dusty does that sound?  …plenty!  But you know what?  There is a whole world of adventure packed into the library. The Dewey Decimal System comes alive when you attach a STEAM (Science, Technology, Engineering, Art, Math) activity to it.  STEAM activities promote creativity, collaboration, communication, and exploration.  The beauty of doing STEAM in the library is that it is a relatively neutral and relaxed space where the children are not graded for their efforts.  There are virtually limitless ways to incorporate STEAM in the curriculum.

Recently, 4th and 5th grade students completed a STEM challenge with Legos while learning about what kinds of books they might find in the 600's Technology section.  They were each given a challenge card, some Legos and a few minutes to create.  Students spelled, built bridges, constructed rainbows, or created something symmetrical.  All were very proud of their creations.
Kindergarten through 5th grade students collaborated on an activity based on exploration of the 700's Arts section of the library.  Please come in and take a look for yourself at the beautiful bulletin board inspired by the works of Russian artist Wassily Kandinsky.  God has made us each unique and together we are a masterpiece…HIS masterpiece!  Our wall of Kandinsky-inspired hearts is a reminder of just that.
Last week, we celebrated beloved children's author, Theodore Geisel (Dr. Seuss) with costumes, tower building activities, and "wocket in your pocket" workshops.
We will round out the month with the Spring Scholastic Book Fair March 13-15.  Thank you to all the students and parents for supporting the library through this event.  It is a wonderful way to ensure everyone has great books to read and our library can continue to be not only a place to read, but a place to create and be challenged.
---
To learn more about Myrtle Grove Christian School near Wilmington's Monkey Junction area, please schedule a campus tour.