Learn how Brittany became rooted in her faith at MGCS…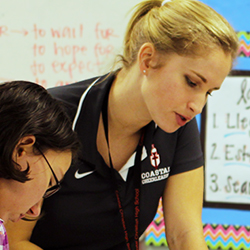 I'm Brittany Williamson, an alumna of Myrtle Grove Christian School. In the 11 years that I attended MGCS, I was not only well-prepared for high school, but was also blessed by lifelong friendships.
I loved my time at MGCS. As I've gotten older, I've grown to value the years I spent there. I have since thanked my parents for working so hard so that my sister and I could attend. The teachers invest in you. They care about you. They want you to succeed. And even more, they help you grow spiritually. I accepted the Lord as my personal Savior in first grade, and my relationship flourished as I continued to spend time studying the Bible at MGCS.
After MGCS I went to Hoggard High School, and then on to NC State. When I graduated college, I moved back home and now every once in a while, I slip over to MGCS to visit my old teachers. I'm so happy to say that many of those teachers have since become my friends.
I now teach and coach cheerleading at Coastal Christian High School, right next door to my wonderful roots at MGCS. I am proud to be a teacher and am thankful I can invest in the lives of children today.  I know what a difference it can make.