2023 Spring Fling -Thursday, March 2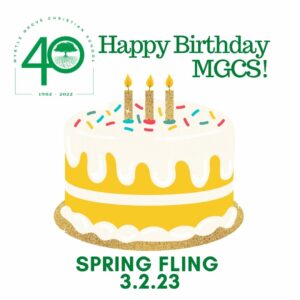 Every March, we host a big party: Spring Fling. This event is another opportunity to celebrate our community. Spring Fling is also a school-wide fundraiser for school advancement initiatives. Over the years, money raised at Spring Fling has allowed us to meet our Annual Fund goal. The Annual Fund supports tuition assistance as well as capital purchases and programs not covered in the operating budget. Spring Fling also beautifully demonstrates the team spirit of the MGCS family. This festive evening uses dozens of volunteers and involves almost every member of our school family.
SPONSORSHIPS
Sponsorships are available. Learn more HERE.  
Deadline for sponsorships: January 23, 2023
BUCKET RAFFLE
Get all of the details and order your tickets HERE.
PORCH SWING BED RAFFLE
We are raffling off a custom made Porch Swing Bed donated by Robert and Ann Jenkins.  All cushions and hanging hardware included. Buy your Porch Bed Swing raffle tickets at our front desk startng on 2/6 then in the gym lobby starting on  2/27. We are selling 150 tickets at $20 each. Winning ticket will be drawn at Spring Fling on 3/2.  You do not need to be present to win. 
2023 EVENT SCHEDULE
5:00 – 6:15  Food Trucks Open in the Horseshoe…prices range from $8.00 – $12.00
5:00 – 6:30 Bucket Raffle Ticket Sales…$1 each or 25 for $20
6:00 – 8:00 Middle School Dance in the Fellowship Hall
6:30 – PK-5th grade activities in classrooms begin
6:45 – Dessert, Coffee Bar, Auction and K-5 student performance in Gym
7:45 – Ticket Drawing for Buckets and Porch Swing Bed