2021 Spring Fling -Thursday, March 4th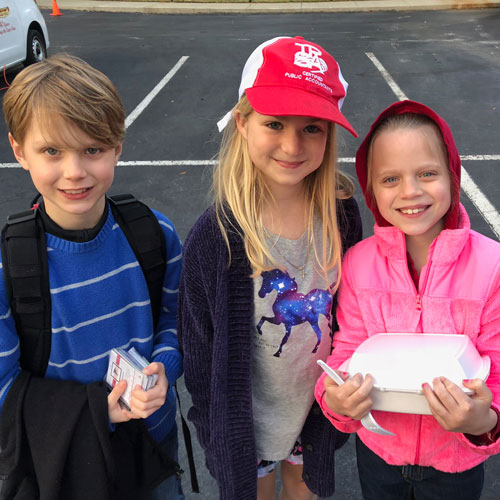 Every March, we host a big party: Spring Fling! This event is another opportunity to celebrate our community. Spring Fling is also a school-wide fundraiser for school advancement initiatives. Over the years, money raised at Spring Fling has allowed us to meet our Annual Fund goal. The Annual Fund supports tuition assistance as well as capital purchases and programs not covered in the operating budget. Spring Fling also beautifully demonstrates the team spirit of the MGCS family. This festive evening uses dozens of volunteers and involves almost every member our school family.
BECOME A SPONSOR
Sponsorship opportunities will be avaialble soon. Check back for more details in December 2020.
LAST YEAR'S (2020) EVENT SCHEDULE
5:00-6:30 Food Trucks. Look for Wilmington favorites and a few new entries each year.
5:00-6:15 Bucket Raffle. Last chance to buy your raffle tickets
6:00-8:00 Spring Dance for 6th-8th graders.This free dance takes place on campus. If you have a 6th-8th grader, pop over at the end of the night for a Mom/Son and Dad/Daughter last dance.
6:30-8:00 Class Parties for PK-5th graders. While parents, grandparents and friends gather in the gym, our PK-5th graders have their own parties hosted by our fabulous teaching staff.
6:30-8:00 Parents, Grandparents, and Friends Program in the Gym. Take some time for dessert and coffee while you catch up with friends and enjoy a program designed for you that includes:

Student Art Live Auction: Each class works together under the supervision of Art Teacher and Local Artist Karen Pray to create a unique piece of art that is auctioned off to the highest bidder. Check out the final products starting on Monday, March 2, in the Youth Room where the silent bidding begins.
K-5 Student Performance: Our K-5th graders take the stage to close out the evening with a brief but always memorable performance.
Bucket Raffle: Each grade level selects a theme, then fills a bucket with items related to that theme. You don't want to miss seeing these show-stopping buckets, which go on display the week of the event. Raffle tickets go on sale about two weeks prior to the event and are $1 per ticket or 25 tickets for $20. Raffle winners are announced at the conclusion of the program in the gym. You do not need to be present to win.