2023 K-8 Grandparents' Day – Friday, September 15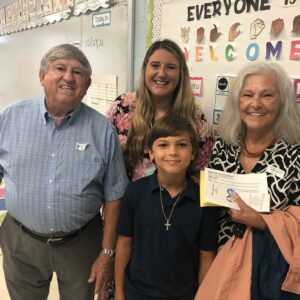 Every year we host our MGCS grandparents to honor and celebrate the important role they play in the lives of our students. For over 40 years, we have been blessed with generations of faithful support for our students and their education. We love our MGCS grandparents and hope all can join us on Friday, September 15, 2023 for our annual Grandparents' Day celebration. 
2023 Grandparents' Day Details
SCHEDULE
8:45 am – Check-in
9:00 am –  Welcome Presentation in the Gym
10:00 am – Refreshments 
12:00 pm – Grandparents' Day ends
CAMPUS EVENTS
Enjoy unique activities in each of your student's classrooms

Read a book and make a bookmark 

Take a trip down memory lane 

Visit the art display in the main entrance hall 

Make a memory book 

Partake in the photobooth
*If your student will be staying on campus after Grandparents' Day please pack a lunch, MyHotLunchbox will not be offering lunch on 9/15.