Read how Nick now loves going to school each morning…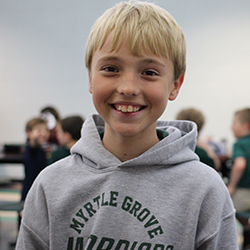 After a difficult 3rd and 4th grade year at another school, we decided to move Nick to MGCS for 5th grade.  We are thrilled with all the changes we have seen in him.  His love for school has returned; he is engaged in learning, and his stress level has dropped.  After 2 years of difficult mornings, Nick now looks forward to school and to seeing his friends and teachers.
When Nick arrived at MGCS, we realized that he was behind academically particularly in grammar, punctuation, spelling and cursive writing. We worked harder and had more homework at our former school, yet were behind MGCS students academically.  Initially, Nick was discouraged, but by working together with Mrs. Singer and Mrs. Reese, he caught up quickly.  We love the small class size here.  Each of the two 5th grade classes has only 18 students.
We're thrilled with Nick's academic progress.  His peers at MGCS have been writing cursive for two years, but Nick had never practiced cursive in public school and had a huge learning curve. Now he takes his time and his handwriting gets neater every day. He's also been taught to use a daily planner properly – a valuable life skill.  He's now more organized and knows what to expect each day.
Nick thrives in the MGCS culture.  He used to dread school because of bullying, but what a relief for him to now attend a school where kindness and courtesy are the standard. MGCS encourages the values and behaviors that we want to instill at home.  He's learned an incredible amount about the Bible, and we're thankful that he's surrounded by people who share God's love for one another. 
Other moms often ask me if we like MGCS.  Some of them consider trying a public school in an effort to save the money and wonder what the difference is. My answer to them is always the same:  "Stay at MGCS!"