MGCS…A Place To Bloom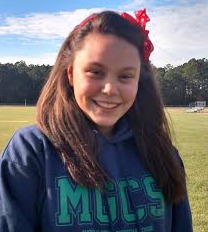 We love watching students bloom at MGCS.  The students who arrive in August are very different than the ones who leave in June.  The timid preschooler who walks in clinging to a parent's hand, strides out confidently  after 8th grade ready for high school.
It is our pleasure and honor to witness these transformations and to play a role in the lives of our students.  Emma Walsh joined MGCS in 2010.  She had recently moved with her family from California, and then endured a difficult semester at another school.
Emma's mom, Martha remembers this time in the life of their family all too well, "After nine weeks in Kindergarten at another school, Emma started to become a different child – someone we did not recognize.  She began to hate school.  She seemed hurt, afraid, and withdrawn so we decided to investigate other school choices.  We wanted a Christian school, with strong academics, and a warm family environment.  A friend suggested MGCS.  She told me it would be a little bit of a drive for us but at that point, I would have driven almost anywhere."
"Our first impressions of MGCS were bright, happy, loving and safe.  When we toured campus, and saw the big smile on Emma's face, we knew she would be happy here.  In Mrs. Starling's class, Emma started to open up, gain confidence, and make friends. She loved (and still loves) that Bible is part of her school day.  We all love the small class sizes.  Mrs. Starling spent time really listening to Emma's needs and helped her adjust.  After a few months, we had our Emma back.  Second through Fifth grade has been a great experience for Emma.  The environment at MGCS allowed her to succeed personally, spiritually and academically.   We will never forget what MGCS did for Emma.  We will always be grateful.