Welcome Anne, Susan, Christie, and Clara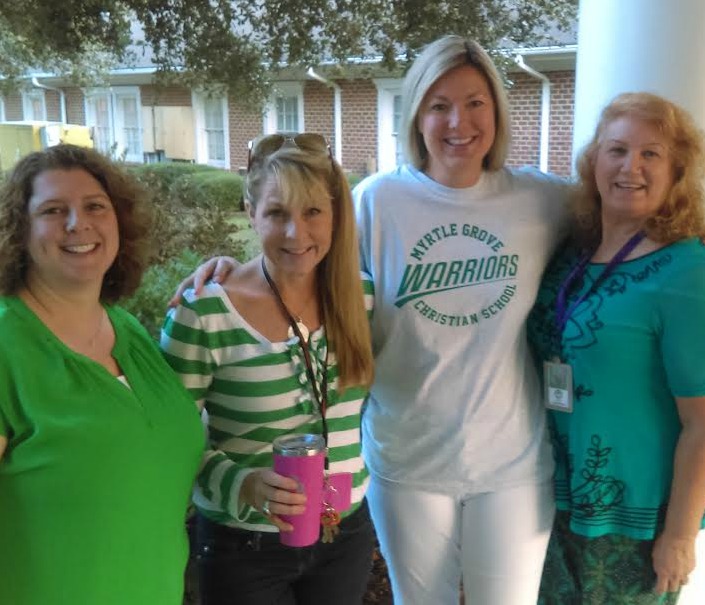 Each year, God faithfully provides exactly what we need.  This year, we welcomed his gift of eight teaching professionals to the MGCS family. Together, they bring to MGCS decades of experience in public and private schools, a passion for education, and a love for animals, the outdoors, ministry, and travel.  We are delighted to introduce four of them in the first of a two-part post.
ANNE EASTERLING – 4TH GRADE TEACHER
I was born and raised in Wilmington.  Joe and I have been married for over twenty-one years, and we have two daughters: Noelle (16) and Moriah (13) as well as a Yorkie-poo named Bella.  We are active members of Northside Church where Joe serves on staff as the Minister of Discipleship. I enjoy children's ministry, reading, and watching sports, especially college basketball. (My favorite college team is the UNC Tar Heels!!). I also enjoy spending time with my family and friends.
After graduating from UNC-Wilmington in 1998 with a B.A. in Elementary Education, I taught fifth grade at MGCS for two years.  In 2006, we moved to the Raleigh area where I taught second and fifth grades at Royal Elementary School and fourth and fifth grade math at Neuse Christian Academy.  We returned to Wilmington in 2014,  and I joined the staff at Wrightsboro Elementary teaching third grade.  I am excited to return to MGCS where my teaching career began.  I love teaching the fantastic fourth graders at MGCS. We are having a wonderful year!
SUSAN CARRIKER –  3RD GRADE TEACHER
I am so excited to partner with the parents here at MGCS in providing a quality biblical education for your children.  Using my creativity to spark a love of the written and spoken word in my students brings me great enjoyment.
I graduated from Charlotte Christian School with a willing heart to follow God's calling throughout my life. I graduated from Greenville College in Illinois with a B.S. in Education. While working on a Master's degree from the University of North Carolina, Charlotte, I felt the calling of the Lord to attend seminary and two years later was ordained as a minister. My experience as a minister and over twenty years of teaching experience has given me a servant's heart.
I married my high school sweetheart after college and we have two incredible daughters; Jennifer and Jessica. What joy they have sprinkled over our lives!  We have been unpacking boxes  this summer as we just moved here from Rock Hill, SC. My husband David took a job as CEO with the Brigade Boys and Girls Club in Wilmington. Our adventure continues.
I enjoy a deep love of reading and have an extensive, varied library. My family enjoys hiking and cooking together. Soccer seems to be the ruling sport! Gardening to me is like delving into God's creation and getting a better glimpse of His creativity. As per my seminary days, "Saved to save and saved to serve."
CHRISTIE ALLEN-DOWN – 2ND GRADE TEACHER
I am married to an amazing Englishman. Ed and I have two perfectly cheeky boys named Aston and Ashby. We have a home in Leland and are thrilled to return to the sun-filled coast of North Carolina!
My eighteen year teaching career has spanned two continents in public and private schools and covers the spectrum of Title 1 schools to prestigious international schools. I have professional experience in PK through third grade, and most recently, I taught 3rd grade at ACS Cobham International School in Surrey, England.
Teaching is who I am through and through, and I live for the challenge and excitement of educating young children. A visitor into my classroom would see routine and structure blended with joy and humor. I possess strong classroom management skills, and my philosophy of teaching is to provide a safe and nurturing classroom where students are challenged in a way that is appropriate to their individual needs. I believe in a marriage of traditional and progressive teaching techniques and creating a classroom of confident and independent learners.
Traveling is close to my heart as well, and my family and I enjoy globe-trotting to places such as Belgium, Paris, and Blowing Rock, NC. When I'm not teaching or traveling, I love cooking for my 'boys' or tucking into a Starbucks and a good book!
CLARA MONROE – KINDERGARTEN ASSISTANT
I graduated from Campbell University in 1992 with a B.S. in Interior Design. From 1992 to 2006, I worked as an independent travel consultant specializing in leisure travel. I grew up in Fayetteville, but spent summers with my parents and three sisters at Wrightsville Beach, so this area has always been home.
My husband, Sandy, has been a broker specializing in residential real estate at Coldwell Banker Sea Coast Advantage for twenty-three years. MGCS has been a wonderful journey for our son, Campbell, who is in fifth grade and has attended here since kindergarten. MGCS has helped him grow closer to God and to learn valuable tools for life like respecting others, confidence in himself, and striving to be the best he can be.
My journey at MGCS began as a volunteer in my son's kindergarten class helping with the enrichment classes. My love for the students led me to continue on to as a substitute for four years in preschool through fourth grade. Being a part of MGCS has helped me stay connected with the teachers and to learn first-hand how great the school really is.
I enjoy being a mom, spending time with my family, traveling, boating, and going to the beach. As a family, we enjoy attending Campbell's sporting and Cub Scout events. We also love spending time with our new toy poodle, Max, and our 16 year old cat, Sweetie Sweet.