Austin's MGCS Story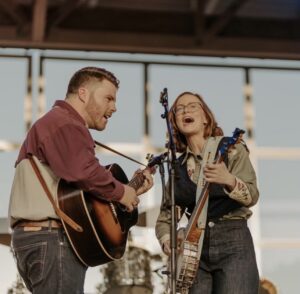 A highlight of our 40 Years of Faithfulness celebrations is the Homecoming Concert by Austin and Sarah McCombie, original folk bluegrass duo: Chatham Rabbits. We are proud to count Austin as an alumnus and thankful for the opportunity to be a part of his story. Here are his reflections on how his time at MGCS shaped who he is today.
As someone who performs music, I can't express how big of an impact it made on me to have been part of the worship team in middle school. That experience gave me the confidence and self assurance to be on stage, it settled my nerves, and taught me how to be comfortable in my own skin. MGCS has curated a place to grow confident in your identity in Christ. This still resonates with me.  
Since I write music for a living specificity of language really matters. I remember my first day of Mr. Jackson's language arts class. He read us a short story then gave us a quiz. In the story, a character held a silver cup. One of the questions was, "what item did the character hold?"  Most of us wrote, "a cup" and a few of us missed the cup altogether. The correct answer was, "a SILVER cup". The whole point was that details matter. He was driving home the importance of details and descriptions. When I create music, details are so important. I can't think of any lesson that had as big and lasting an effect on me than that first day in Mr. Jackson's class.
Weekly chapel taught me the value of spending time with my faith, worshiping, learning and praying. MGCS puts their money where their mouth is by carving time out of the school schedule each week for this time to be still, quiet, reflective. It was such a good way for us to experience God. We were not just being told about God, we were able to participate and experience Him for ourselves. 
I have so many memories from my years at MGCS; performing in the school talent show, playing soccer, basketball and tennis, coaching from Mr. Thornton, PE with Mrs. Friend, learning to make Yaupon Holly Tea on a field trip (which I still occasionally brew), recess on the blacktop and simply having fun with friends and enjoying being a kid. It was a blissful place to grow up but MGCS was not an insulated bubble. They also provided experiences that prepared me to navigate obstacles and challenges that I faced in college and beyond.  Our professional life is in a very secular arena where we face a lot of worldly stuff. Time at MGCS taught me to navigate these using biblical principles.
At MGCS, I learned how to be person who contributes to my community and serve as witness to a life that extends beyond this earthly life. The confidence I developed during my years there gave me the courage to leave my job as a financial planner and pursue my passion: writing and performing music. I don't think any of us can fathom or calculate the effects of a Myrtle Grove Christian School experience on 40 years worth of students and how that continues to radiate out from the lives they lead. 
Check out some of Austin and Sarah McCombies' adventures in their PBS series
On the Road with Chatham Rabbits.
We look forward to welcoming Austin, his wife Sarah, and their band Chatham Rabbits, to our campus for a homecoming concert on November 13.  For more information visit
MGCS.org/40years