From the Creek to the Sea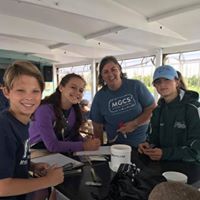 Upper school science at MGCS is a bold adventure.  Last month found 6th and 7th grade scientists with damp feet and dirty hands in our school creek, at Fort Fisher and on the Cape Fear River.  Led by the dynamic and brilliant Angie Pleasant, our students didn't just learn about science, they experienced science.  Here is a record of their remarkable field work.
Sixth Grade
After three weeks studying our ocean, estuaries, and shorelines, students used field research methodology and dichotomous keys to conduct field studies at various sites around Fort Fisher. Students conducted the following investigations:
Collected, identified, and counted various vertebrates and invertebrates found in the shallow waters of our estuaries.
Searched for, identified, then compared and contrasted organisms found in our rocky shoreline at the Coquina Outcrop with the organisms found on our sandy shorelines.
Identified and measured distances between shoreline zones to discover how these changing distances (natural and engineered) impact the organisms that live and nest in the area.
Seventh Grade
As a part of our creek to river study, students participated in the following activities:
Conducted biological assessments in and by the creek bank by identifying and counting macro invertebrates as a way to determine the health of the creek.
Conducted chemical assessments of the water by testing dissolved oxygen, turbidity, salinity, nitrate, phosphate, and pH levels to determine and confirm the health of our creek.
Traveled up the Cape Fear River to conduct water assessments as well as learn more about the historical, economic, and ecological value of our river.
Dissected a crayfish to better understand how they live in a creek environment.