It All Starts At MGCS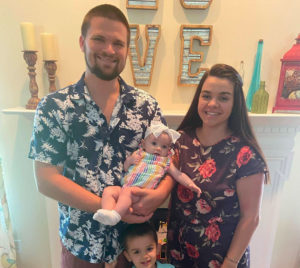 For almost 40 years, our Christian school has given hundreds of PK-8 grade children a safe, balanced place to begin their academic journey. For some, it is also a place where they begin a spiritual journey or take big, new steps in a journey that has already begun. Some students discover a passion for science, art, writing or missions. Many begin lifelong friendships here. Myrtle Grove Christian School is a place of beginnings and we are honored to be a part of them.
For Lauren (Prevatte) and Miles Butler, MGCS was a place where they began a friendship that eventually grew into a marriage and a family.  Lauren and Miles attended MGCS from PK – 8th grade.  Mrs. Eddy, Mrs. Cofield, Mrs. Thompson, Mrs. Ivey, and Mrs. Pleasant were all part of the team that helped lay the strong academic foundation which allowed Lauren and Miles to shine at NC State.  Lauren majored in Social Work and Miles earned his degree in Business Administration.
"MGCS was a blessing to both of us. We made lifelong friends," Lauren recalls.  "I remember lots of tears at our 8th grade graduation. Many of us stay in touch."  Some of Lauren's favorite memories include competing with her tribe at field day, Fall Festival, Grandparents' Day, memorizing Bible verses, the early days of our Science Olympiad program, and remarkably, silent lunches she earned for talking too much!
Lauren and Miles both remembered about MGCS was the quality education taught from a Biblical worldview so when it was time to send their son Charlie to preschool,   There was no question that Charlie would start his journey at MGCS. A growing number of MGCS Alumni are enrolling their children in school here and it is one of the highest compliments we can receive!