Unit Studies: Our Fall Line Up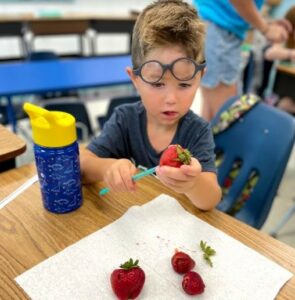 Part of the MGCS K-8 experience includes interdisciplinary thematic unit studies. These units are designed as extended studies of a broad topic in which teachers collaborate across disciplines. Our unit studies
are experiential and holistic 

help students make connections between subject matter including the arts and sciences

conclude with a celebration that provides students an audience of parents and peers to share their learning experiences

provide students the opportunity to demonstrate new skills and share their personal thoughts

empower students to educate those in their sphere of influence



Each grade level includes a unit study in the Fall and in the Spring. Check out our fall line up… 
Kindergarten:
Harvest Season Now and Then
1st Grade:
What is a Scientist?
2nd Grade:
Thankful to be an American Citizen
3rd Grade:
The Earliest Americans
4th Grade:
Forces and Motion
5th Grade:
Survivor Unit
6th Grade:
Kingdom Study
7th Grade:
Renaissance – Rebirth
8th Grade:
E Pluribus Unum – Out of many one
If you are a parent or grandparent of an MGCS student make sure to join us for their unit celebration during the month of November. Details will be sent home via homeroom teachers and announced in next week's Warrior Weekly.