2021 Parents' Day – Friday, May 7th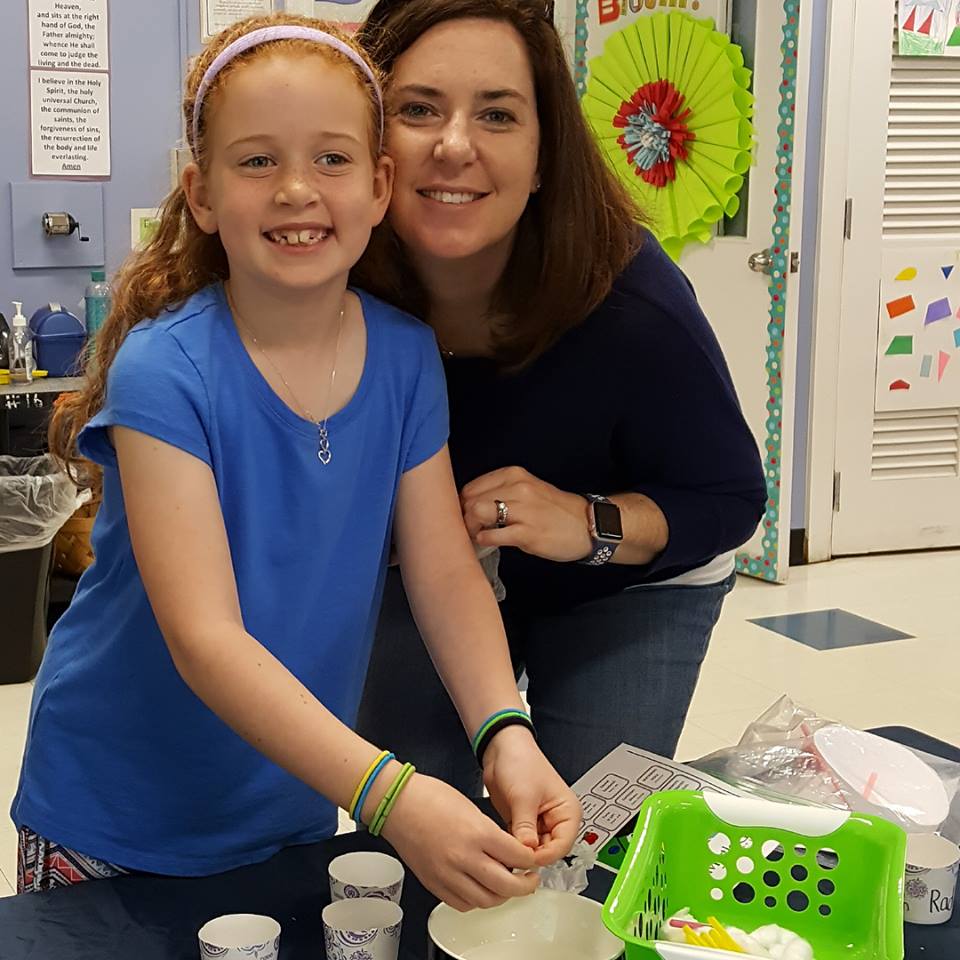 On Parents' Day, we invite MGCS parents to spend the morning with their child visiting STEM stations set up around the campus to engage in hands-on learning experiences designed by our teachers that highlight key concepts from our Math and Science curriculum. Our STEM Marketplace in the gym features STEM-related businesses that provide additional hands-on learning and help connect academic concepts to real work applications. Using the Parents' Day STEM Passport as a guide, students and parents receive stamps from each station. Ten stamps on your family's passport earns students a casual day coupon.
2019 EVENT SCHEDULE
Our 2020 Parents' Day event was canceled but here is what our 2019 program looked like. We anticipate a simmilar line up for Parents' Day 2021.
8:05-8:35 a.m. Parents and Students arrive and check-in to their youngest child's (K-8th) classroom.
8:40-9:00 a.m. Welcome Ceremony in Sanctuary.
9:00-11:30 a.m. Station Activities open in Classrooms and in the Gym.
2019 Parents' Day stations included:
Bubble Building Challenge – Build you own bubble wand and test to see if you can make bubbles bigger than your own hand.
Build Your Own Parthenon – Design and build a parthenon to hold as much weight as possible.
Don't Fly Away – Build a parachute to harness wind and air friction.
Toothpick Challenge – Choose a challenge task card and use marshmallows and toothpicks to build your own 2D or 3D shape to take home.
The Great Migration Challenge – Discover the challenges faced by migrating birds by selecting a bird and following it along its migratory path. What challenges will it face? Can it survive the trip from one place to another?
Magnetic Car Races – Select your car and race down the track using the power of magnetic repulsion.
Helicopter Drop – Create your own helicopter using given materials. Change project variables to see which design flies the best.
Jack and the Parachute Challenge – Design and build a parachute to help Jack (from the famous fairytale) escape the giant.
Metric Mania – Challenge your knowledge of metric measurement by moving from station to station to measure the volume, length, and mass of various objects using various tools and techniques such a triple beam balance, water displacement, graduated cylinders, and rulers.
Phenomenal Phytoplankton – Discover how phytoplankton is designed to control its buoyancy, and design your own phytoplankton that has neutral buoyancy in a column of water.
Hidden Pictures – Use the power of graphing to unveil the picture hidden in the coordinate plane.
What Goes Around Comes Around – Become a part of the Nitrogen Cycle in this fun simulation game.
10 Apples Up on Top – Work together to see how many apples you can stack without the assistance of playdough, and then attempt to see if you can beat your first record using playdough as support.
Frogger Challenge – Create your own origami frog and test its jumping length as it moves from lilypad to lilypad.
The Incredible Hoop Glider – Build your own hoop glider and test its gliding ability on the track. Whose will go the longest distance?
Bee Amazing! – Use your programming skills to get a bee through a maze while it's collecting nectar along the way. Your goal is to try to minimize the number of steps by using repeat loops.
Summer Explorers – Come find out more about the exciting summer programs available for your child and for our MGCS Families!
Watering Hole – Stop by the watering hole for a frozen treat!
STEM Marketplace – Be sure to stop by the Gym for more activities and demonstrations from STEM-related businesses and organizations.
Registration for 2021 Parents' Day opens on April 6, 2021