The Timothy Center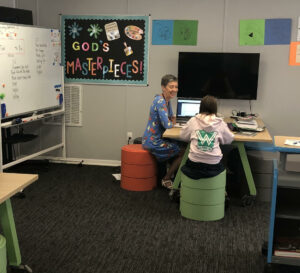 In response to growing needs, we continue expanding our academic support services. This fall, God allowed us to take a significant step forward in this journey. We are pleased to announce the Timothy Center at Myrtle Grove Christian School opened to five students in August. Ms. Lynn Benjamin serves as the Timothy Center instructor and comes to MGCS with over 35 years of experience teaching students with learning differences. One of her greatest experiences was teaching at a missionary school in Taiwan.

The Timothy Center…
Affords students an in-house opportunity to receive focused academic instruction unique to our school through a biblically permeated framework.
Equips students to achieve the MGCS Expected Student Outcomes. 
Provides instruction that engages students at MGCS throughout the school day fostering community for the student at MGCS.
Operates in partnership with our students' parents and MGCS to help students reach their full academic potential.
The Timothy Center instructor delivers core instruction in reading, writing, math and works collaboratively with the students' other teachers to adapt and make accommodations.
We look forward to ongoing growth and expansion in this area as we continue working toward graduating students who are maturing followers of Jesus Christ equipped and inspired to impact the world for the glory of God.
For more information on the Timothy Center, contact interim Director, Carrie Barnette: cbarnette@mgcs.org.