Only At MGCS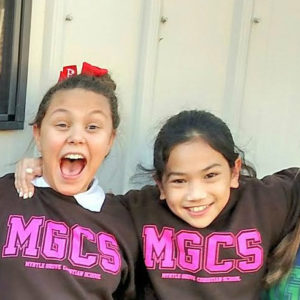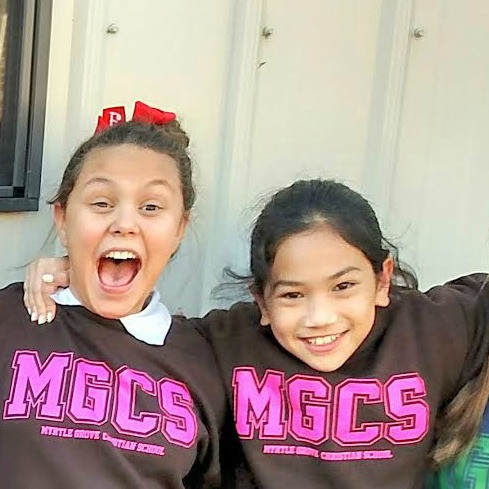 Every school has its own personality.  At MGCS, we are a small, tight-knit community.  We celebrate joys and shoulder burdens together.  Here are six experiences that only happen at MGCS and make our school unique.  If you attend MGCS you probably…
WORK TO EARN CRÈME SAVERS
Mr. Jackson is regularly swarmed by students of all ages, eager to tell him about adventures in housework, church life, academics, and friendships…all to earn a Crème Saver. Sure, it seems silly, but it reinforces a school culture where kids get in the habit of looking for opportunities to go "above and beyond" expectations at school, at home and in the community.
WALTZ WITH A CLASSMATE
Starting in January, 5th graders receive instruction in manners and etiquette.  This course concludes with a formal reception to showcase these newly polished skills.  Waltzing with an assigned partner earns you extra credit and lots of great pictures snapped by your Mom!  Manners matter at MGCS.  We practice good manners because we seek to conduct ourselves in a manner that is worthy of Christ.
LOOK FOR MRS. FURTADO IN THE MORNING
Mr. Jackson is not the only teacher handing out candy.  The first student to find 5th Grade Assistant, Kim Furtado in the morning gets an Altoid and bragging rights for the day.  It's a school wide competition that's usually settled before 8:00 a.m. and it's a fun start to the school day.
WRAP UP YOUR DAY IN UPPER SCHOOL OUTSIDE OF THE CLASSROOM
During the last period of each day, you may build a boat, work in a garden, or design a cake.   Upper School students choose experientil learning electives each semester. These opportunities are designed to create memorable moments while teaching math, biology, public speaking, organization, and more though hands-on learning experiences.
RUN WITH FRIENDS
Like many schools, students at MGCS run a mile for PE testing.  Some kids breeze through it, but a timed mile run presents a real challenge for some.  Here, students who finish easily and early go back and run beside slower runners while others cheer them on from the sidelines. Your final time is your own, but finishing the mile run at MGCS is a team effort.
HAVE FRIENDS IN ALL GRADES
Each year, students are assigned to a tribe led by  8th graders.  These tribes meet throughout the year and later compete as a team in May at Field Day.  Eighth graders develop leadership skills, and all students develop relationships with students from other grades.