A Note From The MGCS Board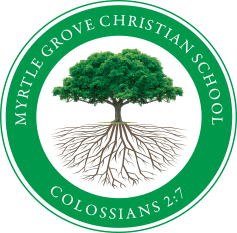 Recently, the governing board of Myrtle Grove Christian School hosted a parent forum to engage with and form deeper relationships with MGCS parents, who the board refers to as Mission Partners. The ends or goals of the school were discussed at length and an updated version was the outcome of the meeting. These revised goals will begin appearing on our web site and in publications after July 1:
Eighth grade graduates are maturing followers of Jesus Christ, equipped and inspired to impact the world for the glory of God. 
Graduates are well rooted in faith and learning.

Graduates engage with the world around them through effective stewardship and service.

Graduates are reflective thinkers who demonstrate a growing ability to discern truth as they evaluate and apply ideas from a biblical perspective.

Graduates enjoy and demonstrate their biblical identity in Christ.

Graduates reflect the excellence of God's design in their spiritual formation, academic progress and God-Honoring relationships.
The Board meets with the administration monthly to pray for the school and review policy and finances. Want to know more about the role of our school board? Contact Head of School Dr. Dirk Mroczek.