Moving On Up To Middle School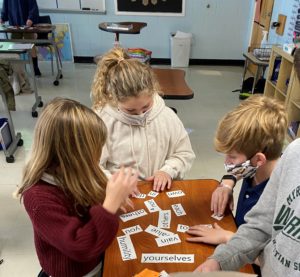 The move from 5th grade to middle school is an important rite of passage at MGCS.  Our 5th grade team works through the year to ensure that students are prepared to make a smooth transition to this next stage in their academic journey.  This year, we combined important content from our Manners curriculum with existing instruction about key academic practices to form the Middle School Prep program to equip students for success in the years ahead.

In concert with this formal instruction,  we incrementally increase classroom responsibilities and expectations for our 5th grade students. For example, we elevate expectations about deadlines and due dates and gradually increase the amount of homework assigned. This gives students an opportunity to apply concepts about time management and accountability while encouraging them to develop good habits and strategies.  We also examine and evaluate classroom and social behaviors then extend opportunities for students to practice these new skills.  

Topics Include
Organization

Verbal and Nonverbal communication

Written Communication including emails, personal notes, texting

Self-Advocacy

Dining and Social Etiquette

Personal Grooming
Personal and academic growth is challenging. Our staff monitors progress and offers  support and encouragement. Throughout this program, we rely on well  established partnerships with our MGCS families and communicate weekly the focus of each week's Middle School Prep lesson as well as any changes in the students' responsibilities or expectations. 
We love seeing our students achieve milestones.  It is a privilege to be a part of their story during these exciting moments in their lives and we are thankful.